Market update Fox Valley week 25
Market update Fox Valley week 25. The best way to describe the market this week is consistent all around. 308 new listings of single family homes compared to 303 the week before.
209 closed listings this week compared to 212 the week before. We like consistency!
Take a look at the communities with the most activity this week:
Aurora-New 44 $89,900-$449,000
Closed-33 $85,000-$460,000
Bolingbrook-New 23 $204,900-$599,900
Closed-14 $170,000-$495,000
Geneva-New 22 $239,900-$1,144,000
Closed-13 $203,000-$1,170,000
Naperville-New 66 $279,000-$1,900,000
Closed-46 $225,000-$1,100,000
Oswego-New 10 $186,900-$649,900
Plainfield- New 36 $100,000-$719,000
Closed-31 $181,000-$525,000
St Charles/Campton Hills-
New-21 $289,900-$1,299,000
Closed-11 $115,000-$415,000
Sugar Grove-New 10 $269,900-$628,000
Closed-2 $300,000-$312,000
Yorkville-New 11 $115,000-$574,900
Closed-3 $252,500-$319,900
Contracts accepted this week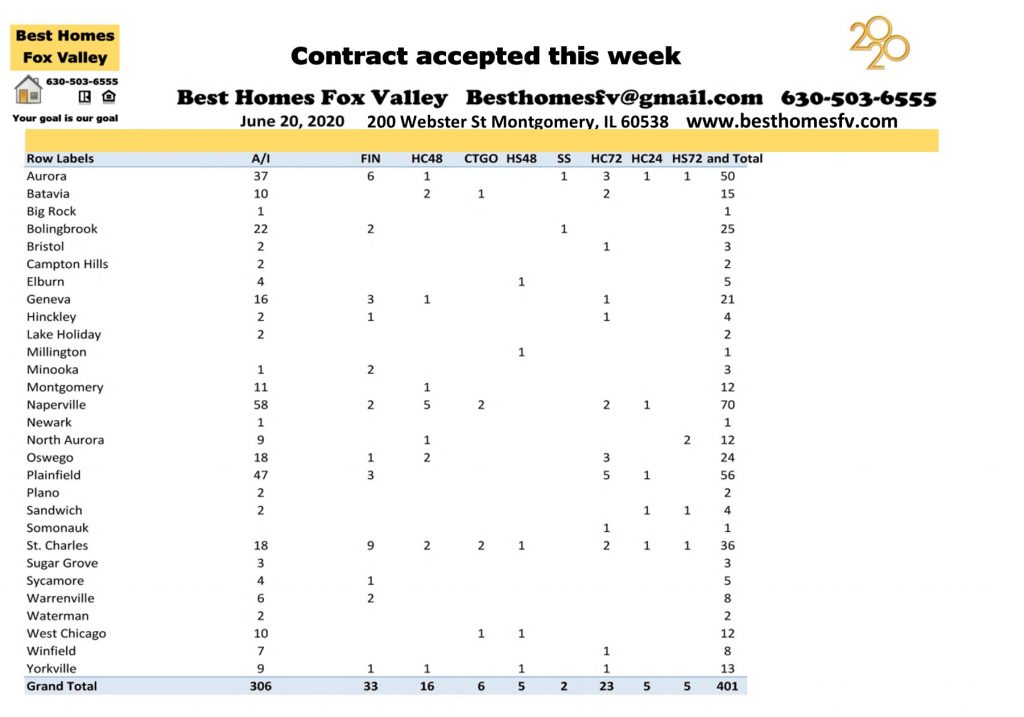 Contracts accepted this week were also consistent. 401 single family homes accepted this week compared to 390 the week before. These numbers would be higher if there were more homes on the market. There just never seems to be enough.
Look at the communities that seller's accepted the most contracts:
Aurora-50 Batavia-15
Bolingbrook-25 Geneva-21
Montgomery-12 Naperville-70
North Aurora-12 Oswego-24
Plainfield-56 St Charles/Campton Hills-36
West Chicago-12 Yorkville-13
2 short sales were accepted this week by seller's. 1 each in Aurora and Bolingbrook. Now they will be submitted to the lender to see if they will also accpet.
Sellers accepted contracts that are contingent on the buyer closing on their current home. 23 with a kick-out clause of 72 hours, 16 with 48 hours and 5 with 24 hours.
Also, seller's accepted contracts that are contingent on the buyer selling and closing on their current home. 5 with a kick-out clause of 72 hours and also 5 with 48 hours.
There is confidence in the market when seller's accept contracts that are contingent on more than financing.
2020 by the month
Month New Closed Contracts accepted
January 1,105 566 858
February 1,267 529 1,024
March 1,186 707 1,079
April 648 786 775
May 1,352 1,010 1,444
June 937 660 1,151
May so far is the best month for all 3 new, closed and contracts accepted. June looks like it is going well but we will see if it turns out to be as good as May. April was the only blip on activity so far during this pandemic. Next Saturday is the last full week of June so we will compare the previous 2 years so you can see how things are going compared to 2019 and 2018.
Contact us
Call us at 630-503-6555 with all of your real estate questions. Your goal is our goal. We will do everything we can to help you reach your goal.
Thinking about selling your home this year? It is a fantastic time to sell. Buyers are eagerly waiting for new homes to come on the market. I think this pandemic showed buyers the need for a home especially one with more space and a nice sized yard.
If you are thinking about buying a home you need to call a loan officer first to get pre-qualified so you know what type of loan and what price range will work out best for you. Let us know if you need recommendations.
Check out some great resources:
Market update Fox Valley week 25. Have a great week!
Best Homes Fox Valley-Search for a home today!
200 Webster St
Montgomery, IL 60538
630-503-6555 ext 101