Market update Fox Valley March 21 2020
Market update Fox Valley March 21 2020. New listings were down a little over 28% this week. 257 this week compared to 360 the week before. Is this due to Covid-19? We are not sure yet. Illinois Governor just imposed "stay at home" starting today at 5 pm. We are classified as "essential services" so we are still working. We are asking our sellers if they still want to show their homes at this time. Some do and some want to wait.
Closings are up almost 34% this week. 190 this week compared to 142 the week before. We are getting closer to the end of the month so that is to be expected. Some title companies are offering curbside closings for buyers. Others are wanting only the people that need to sign papers come to closing. They clean everything in the room and use new pens for each closing. Sellers a lot of times these days, go in a few days before closing and sign documents with their attorney and give them power of attorney for anything else that needs to be signed on closing day. They have been doing this for quit some time. This is not new. Most closings it is just the buyers there and attorneys.
Take a look at the communities with the most activity this week:
Aurora-New 33 $85,000-$599,900
Closed-33 $82,500-$516,900
Batavia-New 5 $265,000-$368,900
Closed-11 $180,000-$449,900
Bolingbrook-New 19 $175,000-$708,900
Closed-12 $181,100-$340,000
Geneva-New 13 $289,900-$499,900
Closed-4 $282,000-$354,000
Montgomery-New 9 $132,000-$284,900
Closed-17 $156,000-$365,610
Naperville-New 55 $250,000-$924,900
Closed-24 $242,000-$890,000
Plainfield-New 33 $207,000-$899,000
Closed-19 $173,000-$327,000
St Charles/Campton Hills-
New 17 $212000-$829,000
Closed-10 $265,000-$825,000
Yorkville-New 10 $225,000-$369,900
Closed-10 $165,000-$400,000
Contracts accepted this week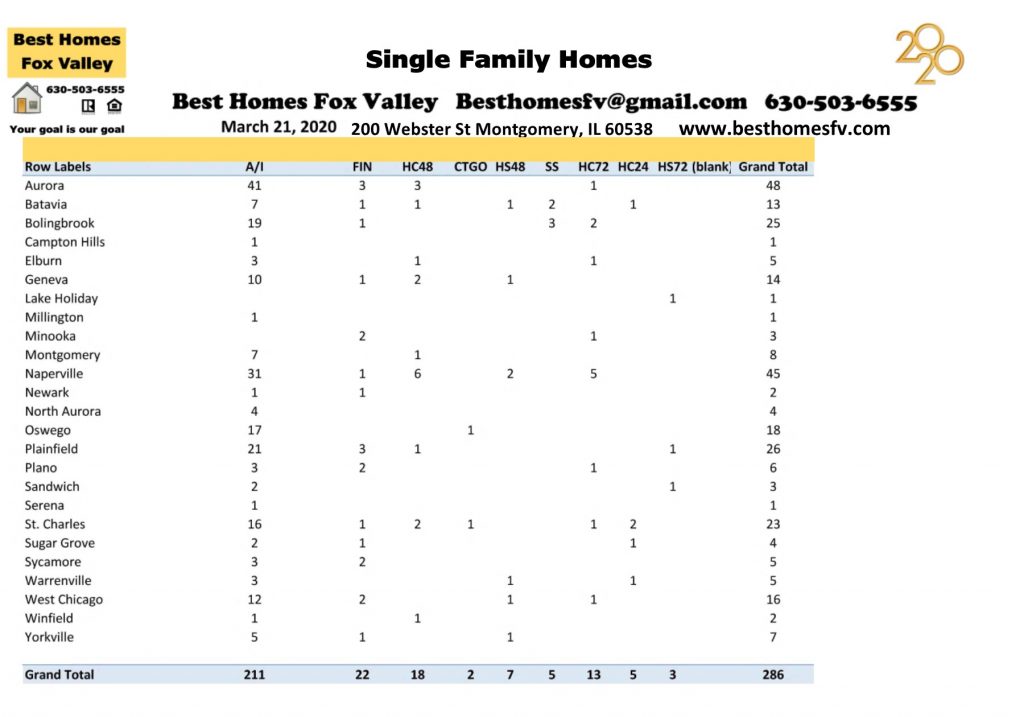 Contracts accepted this week were down 17 1/2% this week. 286 this week compared to 347 the week before. Showings started slowing down as the week went on. We will just have to see how this next week goes. Some sellers are still showing their homes and some are not.
Look at the communities that sellers accepted the most contracts this week:
Aurora-48 Batavia-13
Bolingbrook-25 Geneva-14
Naperville-45 Oswego-18
Plainfield-26 St Charles/Campton Hills-23
West Chicago-16
5 short sales were accepted by sellers this week. 2 in Batavia and 3 in Bolingbrook. Now they will be submitted to the lender to see if they will also accept.
Sellers accepted contracts this week that are contingent on the buyer closing on their current home. 13 with a kick-out clause of 72 hours, 18 with 48 hours and 5 with 24 hours.
Also, sellers accepted contracts that are contingent on the buyer selling and closing on their current home. 3 with a kick-out clause of 72 hours and 7 with 48 hours.
2020 by the month
Month New Closed Contracts accepted
January 1105 566 858
February 1267 529 1024
March 994 503 900
Check back next Saturday to see how this next week goes.
Contact us
Call us at 630-503-6555 with all of your real estate questions. Your goal is our goal. We will do everything we can to help you reach your goal.
Do you need an update of the value of your home in today's market? We will provide you with a net proceeds that shows the expenses to sell your home. This will be updated when an offer comes in and we know all the terms so you can make a good decision.
If you are thinking about buying a home this year you need to contact a loan officer to get pre-qualified so you know the type of loan and what price range will work out best for you.
Check out some great resources:
We are in different times right now. Whether going to look at homes or showing your home we need to keep social distancing and other preventative measures. You might want to check the CDC site for recommendations. If you have legal questions please contact your attorney to answer your questions. We can not give legal advice.
Market update Fox Valley March 21 2020. Have a great week! Wash your hands.
Kristine Heiman, Designated Managing Broker
Best Homes Fox Valley-Search for homes today!
200 Webster St
Montgomery, IL 60538
630-503-65655 ext 101