Market update Fox Valley January 25 2020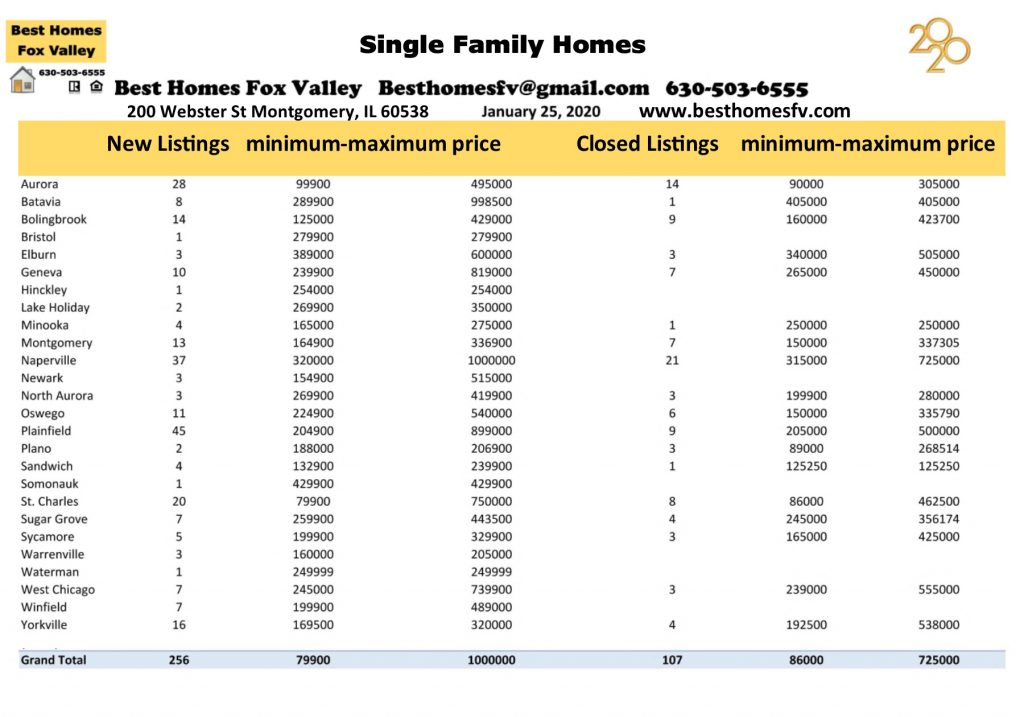 Market update Fox Valley January 25 2020. New listings increased slightly this week. 256 this week compared to 247 the week before. We have had some snow but the temperatures have been fine so that is not a factor.
Closings this week were very consistent. 107 this week compared to 108 the week before. Next week is the final week of the month so we will see if this increases.
Take a look at the communities with the most activity this week:
Aurora-New 28 $99,900-$495,000
Closed-14 $90,000-$305,000
Bolingbrook-New 14 $125,000-$429,000
Closed-9 $160,000-$423,700
Geneva-New 10 $239,900-$819,000
Closed-7 $265,000-$450,000
Montgomery-New 13 $164,900-$336,900
Closed-7 $150,000-$337,305
Naperville-New 37 $320,000-$1,000,000
Closed-21 $315,000-$725,000
Oswego-New 11 $224,900-$540,000
Closed-6 $150,000-$335,790
Plainfield-New 45 $204,900-$899,000
Closed-9 $205,000-$500,000
St Charles/Campton Hills-
New 20 $79,900-$750,000
Closed-8 $86,000-$462,500
Yorkville-New 16 $169,500-$320,000
Closed-4 $192,500-$538,000
Contracts accepted this week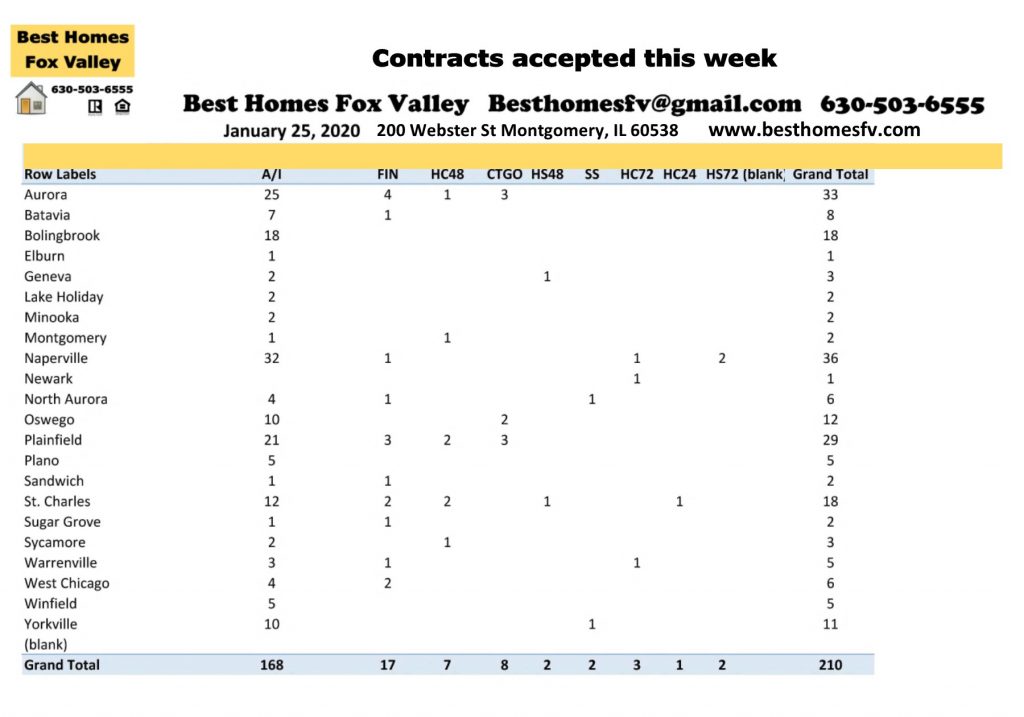 Contracts accepted this week increased 20.7%. This week 210 contracts were accepted and the week before there were 174. Things are happening so don't wait thinking this is a bad time to put your home on the market. Get ahead of the big rush of Spring market when you will have a lot of competition. If your home is ready for market now is the time!
Look at the communities that sellers accepted the most contracts:
Aurora-33 Bolingbrook-18
Naperville-36 Oswego-12
Plainfield-29 St Charles/Campton Hills-18
Yorkville-11
St Charles and Campton Hills are combined on the MLS so that is why we always have them combined.
2 short sales were accepted this week by sellers. 1 in North Aurora and also 1 in Yorkville. Now they will be submitted to the lender to see if they will also accept.
Sellers accepted contracts that are contingent on the buyers current home closing. 3 with a kick-out clause of 72 hours, 7 with 48 hours and 1 with 24 hours.
Also sellers accepted contracts that are contingent on the buyer selling and closing on their current home. 2 with a kick-out clause of 72 hours and also 2 with 48 hours.
2020 by the month
Month New Closed Contracts accepted
January 859 441 650
Next week I will compare last year to this year in January to see the difference. Just realize that some of the new listings are ones that have been on the market and expired or canceled and relisted so it is not a true figure. The same with contracts accepted. Some of them have had a contract accepted and for some reason they go back on the market and then receive another contract. The only true figure is closed. When you are trying to come up with a price to put your home on the market closed is the only one to use.
Contact us
Call us at 630-503-6555 with all of your real estate questions. Your goal is our goal. We will do everything we can to help you reach your goal.
Thinking of putting your home on the market? Let us update the value of your home in the current market. We will provide you with a net proceeds that shows you an estimate of expenses to sell. This will be updated when an offer comes in and we know all the terms.
If you are thinking about buying a home you need to call a loan officer to get pre-qualified to see what type of loan and the price range that will work out best for you. They will give you a letter showing what you qualify for and this will go with a offer when you find a home. Sellers need to know this information to make a decision whether to work with your offer or not.
Check out some great resources:
School websites also give you a lot of good information. Let us know if there is any other information that you are looking for.
Market update Fox Valley January 25 2020. Have a great week!
Kristine Heiman, Designated Managing Broker
Best Homes Fox Valley-Search for a home today!
200 Webster St
Montgomery, IL 60538
630-503-6555 x 101
Sign up free for a different way to search for a home. You can change to satellite view and it also has a chat feature.