Fox Valley market update 1-18-2020
Fox Valley market update 1-18-2020. New listings increased 13.3%. 247 this week compared to 218 the week before. That is great news for buyers that continue to search for just the right home to purchase. Choices are good! You still might have to find the home with the right amount of space and make it into your own.
Closings this week were exactly the same. 108 this week and the last. They should increase as we head into the end of the month when most buyers want to close.
Take a look at the communities with the most activity this week:
Aurora-New 22 $109,900-$539,900
Closed-19 $70,007-$385,000
Bolingbrook-New 15 $164,900-$375,000
Closed-4 $159,000-$364,900
Geneva-New 16 $157,500-$899,900
Closed-9 $110,000-$602,000
Naperville-New 51 $269,989-$1,695,000
Closed-22 $295,000-$1,130,013
Oswego-New 15 $243,000-$445,000
Closed-2 $309,000-$365,000
Plainfield-New 38 $178,000-$830,000
Closed-13 $184,000-$405,000
St Charles/Campton Hills-
New 22 $78,900-$1,700,000
Closed-6 $175,000-$855,000
Yorkville-New 10 $229,000-$540,000
Closed-3 $130,000-$292,990
Contracts accepted this week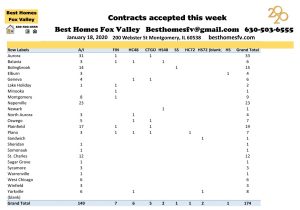 Contracts accepted this week rose just over 9%. 174 this week compared to 159 the week before. Buyers are looking for homes year round so don't think this is not a good time to sell. If the location, condition and price are right it will sell. If you can't update or change the condition the price might need to go down until the market shows you that you have finally hit the right spot.
Communities that sellers have accepted the most contracts this week:
Aurora-33 Bolingbrook-15
Naperville-23 Plainfield-19
St Charles/Campton Hills-12
The MLS has combined St Charles and Campton Hills if you are wondering why we always combine them. These are the communities in the Fox Valley that are consistently the most active.
Only 1 short sales was accepted this week. It was in Bolingbrook. Now it will be submitted to the lender to see if they will also accept.
Sellers accepted contracts this week that are contingent on the buyer closing on their current home. 1 with a kick-out clause of 72 hours and 6 with 48 hours.
Also sellers accepted contracts that are contingent on the buyer selling and closing on their current home. 2 with a kick-out clause of 72 hours, 2 with 48 hours and 1 with 24 hours.
2020 by the month
Month New Closed Contracts accepted
January 603 334 440
Not bad for only 2 1/2 weeks into the new year. Activity happens no matter what time of year it is. You might want to get your home on the market now so you have less competition then when Spring market hits. If you are a buyer keep an eye on the new listings coming up and make sure your pre-approval letter is up to date. No more than 30 days old.
Contact us
Call us at 630-503-6555 for all your real estate questions. Your goal is our goal. We will do everything we can to help you reach your goal.
Let us update the value of your home in today's market. We will provide you with a net proceeds that shows you an estimate of the expenses to sell. This will be updated when an offer comes in and we know all the terms.
Are you looking to buy this year? Make sure you contact a loan officer to get pre-approved so you are ready to go. We will not show homes without it. You don't want to fall in love with a home that will not work for you. You need to find out the price range and what type of loan that will work out best for you.
Check out some great resources:
If you need recommendations for loan officers, real estate attorneys and home inspectors we will be happy to provide you with a few of each to consider.
Fox Valley market update 1-18-2020. Have a great week!
Kristine Heiman, Designated Managing Broker
Best Homes Fox Valley-Search for a home today!
200 Webster St
Montgomery, IL 60538
630-503-6555 ext 101
Sign-up free for a different way to search for a home. You can switch to satellite view and it also has a chat feature.