11 30 19 Market Update Fox Valley
11 30 19 Market update Fox Valley. Market was down this week significantly. 100 this week compared 166 the week before. It was a holiday week so we really only had 3 business days so this is to be expected.
Closings this week were also down significantly. 154 this week compared 224 the week before. You can't judge the market on this holiday week. Even REALTORS® took some time off to travel or prepare for Thanksgiving.
Take a look at the communities with the most activity this week:
Aurora-New 17 $139,900-$340,000
Closed-30 $77,700-$550,000
Bolingbrook-New 6 $213,000-$425,000
Closed-13 $160,000-$350,000
Naperville-New 10 $300,000-$1,075,000
Closed-21 $225,000-$1,200,000
Oswego-New 7 $189,000-$545,000
Closed-11 $197,000-$313,000
Plainfield-New 11 $200,000-$414,900
Closed-21 $160,000-$512,156
St Charles/Campton Hills-
New $254,900-$675,000
Closed-12 $185,000-$900,000
Yorkville-New 11 $217,000-$575,000
Closed-3 $175,000-$249,000
Contracts accepted this week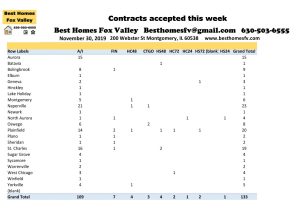 Contracts accepted this week were also significantly down. 133 this week compared to 177 the week before. Hopefully we will get back to normal this week.
Look at the communities that sellers accepted the most contracts this week:
Aurora-15 Naperville-23
Plainfield-20 St Charles/Campton Hills-19
No short sales were accepted this week from sellers.
Sellers accepted contracts that are contingent on the buyers closing on their current home. 2 with a kick -out clause of 72 hours, 4 with 48 hours and 1 with 24 hours.
Contracts were also accepted by sellers that are contingent on the buyer selling and closing on their current home. 2 with a kick-out clause of 72 hours, 4 with 48 hours and 1 with 24 hours.
2019 by the month of activity
Month New Closed Contracts accepted
January 878 407 608
February 1,032 465 832
March 1,731 915 1,375
April 1,594 790 1,307
May 2,004 1,391 1,665
June 1,643 1,253 1,218
July 1,423 1,029 1,090
August 1,585 1,403 1,211
September 1,164 765 869
October 1,259 957 959
November 679 727 656
Total 14,992 10,102 11,790
Some of those new listings are homes that have been relisted. Not all listings that receive contracts close. Some might have an inspection issue that can't be negotiated to resolve or something might come up on the new title search that can't be easily resolved. You need a good REALTOR® and real estate attorney that can help get through some of these issues.
Contact us
Call us at 630-503-6555 with all of your real estate questions. Your goal is our goal. We will do everything we can to help you reach your goal whether buying/selling your home.
Resources to check out:
Some lenders also help out with costs. You need to decide what helps out the most.
11 30 19 Market update Fox Valley. Have a great week!
Kristine Heiman, Managing Broker
Best Homes Fox Valley-Search for a home today!
200 Webster St
Montgomery, IL 60538
630-503-6555 x101
Sign up free for another great way to search for a home. Click on the satellite view. It is like hovering over the homes so you can see if there is a nice yard, corner lot or fenced in back yard. It also has a chat feature. If you need help navigating let me know.