11 16 19 Market Update Fox Valley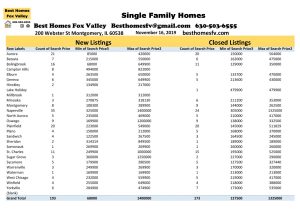 11 16 19 Market update Fox Valley. New listings of single family homes were slightly down this week. 193 this week compared to 220 the week before. Any amount of new listings down has an impact for buyers. That means there are less homes available to them to see. If you are looking for a home over $200,000 you have more to choose from then buyers looking under that amount. We are still very short in inventory for buyers looking under $200,000 price range. If you have a home in that price range to sell this would be a great time to get it on the market.
Closed single family homes were very consistent this week. 173 closed this week compared to 176 the week before. Consistent is a good thing!
Take a look at the communities with the most activity this week:
Aurora -New 21 $85,000-$420,000
Closed-20 $150,000-$564,000
Bolingbrook-New 16 $68,000-$649,900
Closed-11 $129,000-$350,000
Naperville-New 35 $325,000-$1,400,000
Closed-24 $305,000-$1,325,000
Plainfield-New 20 $223,000-$549,000
Closed-20 $145,000-$511,829
St Charles/Campton Hills-
New-11 $249,900-$1,000,000
Closed-15 $195,000-$525,000
These 5 communities are consistently more active than other communities. Is it the schools, shopping, parks or work? There is so many reasons why you choose a community. It might just be the type of housing and price range. Living close to family and friends. Where are you looking and why?
Contracts accepted this week
Contracts accepted this week on single family homes was up this week. 178 this week compared to 168 the week before. It is a good time right now to get into a home before the end of the year. With 2 holidays between now and the end of the year, when businesses are closed, soon we will have to go into the new year. You could start the New Year out right with a new home and have time to get it the way you want it before Spring comes when you will want to be outside getting the yard the way you want it.
Look at the communities that sellers accepted the most contracts:
Aurora-31 Geneva-14
Naperville-33 Oswego-12
Plainfield-22 St Charles/Campton Hills-18
1 short sale was accepted in Naperville this week. Now it will go to the lender to see if they will also accept it as written.
Sellers accepted contracts this week that are contingent on the buyer closing on their current home. 5 with a kick-out clause of 72 hours, 5 with 48 hours and 2 with 24 hours.
Contracts were also accepted by sellers that are contingent on the buyer selling and closing on their current home. 3 with a kick-out clause of 72 hours, 2 with 48 hours and 1 with 24 hours.
2019 by the month
Month New Closed Contracts accepted
January 878 407 608
February 1,032 465 832
March 1,731 915 1,375
April 1,594 790 1,307
May 2,004 1,391 1,665
June 1,643 1,253 1,218
July 1,423 1,029 1,090
August 1,585 1,403 1,211
September 1,164 765 869
October 1,259 957 959
November 413 349 346
Total 14,726 9,724 11,480
Contact us
Call us at 630-503-6555 Bobby Burson, Broker ext 105 or Kristine Heiman, Managing Broker ext 101 with all of your real estate questions. Your goal is our goal. We will do everything we can to help you reach your goals whether buying/selling a home.
If you are thinking about selling let us update the value of your home in today's market. We will provide you with a net proceeds that shows the expenses to sell. This will be updated when an offer comes in and we know all the terms so you can make a good decision.
Looking to buy a home? The first step is to contact a loan officer to get pre-qualified so you know what type of loan and what price range will work out best for you. We can make some recommendations of loan officers to contact that we have successfully worked with.
Great resources to check out:
Buying a home in a good school district is important even though you do not have kids in school. You always want to be thinking about resale value.
11 16 19 market update Fox Valley. Have a great week!
Kristine Heiman, Managing Broker
Best Homes Fox Valley-Search for a home today!
200 Webster St
Montgomery, IL 60538
Sign up for free with another way to search for a home. I think you will really like all the information you get with this way to search. If you need help in how to navigate it I would be happy to do a video conference call and share my screen with you to show you how. This also has a chat feature.