Fox Valley home prices February 19 2022
Fox Valley home prices February 19 2022. Winter months are usually the slowest time of the year. Hang in there a couple more weeks. Spring market is right around the corner.
The market picked up 27 more listings of single family homes this week than the previous week. 137 this week compared to 110 the week before.
Closed listings saw a small increase as well. 121 this week compared to 107 the previous week.
Take a look at the communities that had the most activity this week:
Aurora-New 22 $134,900-$649,900
Closed-18 $104,000-$655,000
Bolingbrook-New 7 $189,000-$519,000
Closed-10 $267,900-$425,000
Naperville-New 23 $305,000-$2,995,000
Closed-20 $320,000-$1,200,000
Oswego-New 11 $250,000-$437,740
Closed-5 $330,200-$416,990
Plainfield-New 15 $129,900-$805,900
Closed-14 $185,000-$859,000
St Charles-New 12 $340,000-$1,200,435
Closed-9 $175,000-$831,000
Other communities had activity that you can check out on the photo above. We can also set you up to receive listings of homes in an area that you choose. Let us know what you are looking for and where and we can set you up to receive as they hit the market so you don't miss out on a thing.
Financing used, median prices and 2,000 square feet or more
The median list price this week of single family homes was $375,500, last week $345,000.
Homes that closed this week had a median closed price of $374,355. last week $341,000.
Conventional financing was used to close on 88 homes with a median price of $397,262, last week 73 homes with median price of $387,000.
Cash was used to close on 15 homes this week with a median price of $477,500, last week also 15 homes with a median price of $284,500.
FHA financing was used to close on 11 homes with a median price of $258,000, last week 16 homes at a median price of $262,500.
VA financing was used to close on 7 homes at a median price of $330,000, last week 3 homes at a median price of $290,000.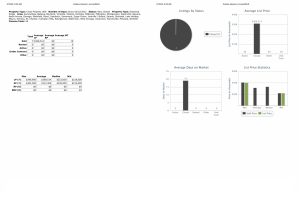 72 homes closed that were 2,000 SF or more this week with a median price of $452,500, last week 58 homes at a median price of $422,495. The minimum price this week $279,900, last week $152,000.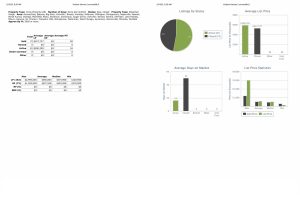 Contracts accepted this week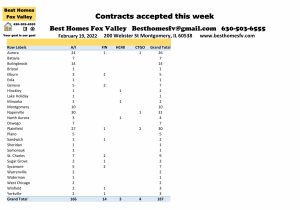 Contracts accepted this week were slightly up. 187 this week compared to 176 the previous week. Until more homes come on the market the numbers are not going to move very much.
Look at the communities seller's accepted the most contracts:
Aurora-26 Bolingbrook-14
Montgomery-10 Naperville-31
Plainfield-30
No short sales were accepted this week.
Seller's accepted contracts this week that are contingent on the buyer closing on their current home. 3 with a kick-out clause of 48 hours.
The median price of homes that went under contract this week was $369,900 with average market time of 42 days. Last week the median price was $379,900 with average market time of 40 days.
2022 by the month
Month New Closed Contracts accepted
January 422 492 623
February 360 392 533
Check back with us every Saturday. Next week will be the last full week of February so we will also include 2021 and 2020 so you can see how this year is going compared to those 2 years.
Contact us
Call us at 630-503-6555 with all your real estate questions. Your goal is our goal. We will do everything we can to help you reach your goal.
It is an awesome time to sell! Prices are up since there is so little inventory of homes. Request a home valuation and tell us a little bit about your home. What have you updated recently? We will give you a estimate of what your home would sell for in today's market. Included will be a net proceeds that shows you an estimate of expenses to sell and what you might walk away with. This will be updated when an offer comes in and we know all the terms so you can make a good decision.
Thinking about buying a home this year? Get all your financial information together and get it to a loan officer so they can give you a letter showing what you are pre approved for. Make sure you find a loan officer that will run your information through with their underwriters so you are ready to go. Once you find a home and get it accepted all you need to wait for is updating the title and getting the appraiser out there.
We will guide you through the process every step of the way.
Resources
Types of loans and the process
Check with your loan officer to see what interest rates they are offering you. It depends on your credit score. If you need to work on it they will help you.
All data provided is from our MLS MRED, LLC.
Fox Valley home prices February 19 2022. Have an awesome week!
Kristine Heiman, SFR, SRS, AHWD
Designated Managing Broker
Best Homes Fox Valley
200 Webster St
Montgomery, IL 60538
630-503-6555 ext 101