10 19 2019 Market Update Fox Valley
10 19 2019 Market update Fox Valley. We are having gorgeous weather right now here in Illinois. Fox Valley market is still moving along. New listings of single family homes this week were down slightly. 259 this week compared to 275 the week before.
Closed listings of single family homes were consistent this week. 167 this week compared to 165 the week before. Numbers should go up as we get closer to the end of the month.
Take a look at the communities with the most activity this week:
Aurora-New 29 $69,000-$649,000
Closed-23 $97,500-$420,000
Batavia-New 14 $228,500-899,900
Closed-9 $135,200-$533,801
Bolingbrook-New 18 $139,900-$399,900
Closed-12 $140,000-$375,000
Geneva-New 16 $275,000-$848,900
Closed-6 $212,000-$514,900
Montgomery-New 10 $155,000-$299,900
Closed-5 $165,000-$248,000
Naperville-New 33 $264,900-$2,250,000
Closed-23 $211,000-$1,265,000
Oswego-New 16 $122,000-$675,000
Closed-7 $189,000-$468,000
Plainfield-New 35 $167,000-$925,000
Closed-30 $170,000-$530,834
St Charles/Campton Hills-
New-18 $214,900-$650,000
Closed-10 $140,000-$425,000
Yorkville-New 12 $219,900-$495,000
Closed-6 $160,000-$339,000
You should be able to click on the picture above to make it bigger so you can see how the other communities did and the price ranges. Some communities are on this list every week. They are more active. This makes a difference when you are looking for a home. You always have to think about resale.
Contracts accepted this week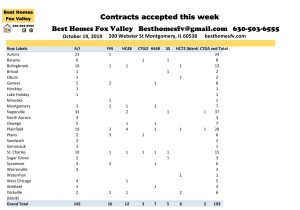 Contracts accepted this week were very consistent. 193 this week compared to 192 the week before. Buyers are still out there looking. If you price your home according to location and condition it should sell. If not you will need to lower price or start fixing it up. Not everyone looking wants to take on projects.
Look at the communities that sellers accepted the most contracts this week:
Aurora-24 Bolingbrook-13
Naperville-37 Plainfield-28
St Charles/Campton Hills-15
Short sales accepted by sellers this week were still low. 5 this week. 1 each in Batavia, Bristol, Naperville, St Charles/Campton Hills and Sugar Grove. Now they will be submitted to the lender to see if they will also accept.
Sellers accepted contracts this week that are contingent on the buyer closing on their current home. 6 with a kick-out clause of 72 hours and 12 with 48 hours.
Contracts were also accepted by sellers that are contingent on the buyer selling and closing on their current home. 7 with a kick-out clause of 48 hours.
2019 by the month
I think it is interesting to see the totals by the month for New listings of single family homes, closed and contracts accepted so you can see how they change.
2019 by the month:
New Closed Contracts accepted
January 878 407 608
February 1,032 465 832
March 1,731 915 1,375
April 1,594 790 1,307
May 2,004 1,391 1,665
June 1,643 1,253 1,218
July 1,423 1,029 1,090
August 1,585 1,403 1,211
September 1,164 765 869
October 825 567 580
Totals 13,879 8,985 10,755
Not all homes that come on the market sell. Some of them cancel the listing or they either need to adjust price or make some updates. Paint does wonders!
Contracts accepted does not mean they will close. The majority of them do but some of them might run into issues with the home inspection that they can not come to an agreement. Sometimes when they do a more in-depth credit check things show up that can't be resolved in time.
Having an experienced REALTOR® and good real estate attorney makes all the difference in getting through issues that come up.
Contact us
Call us at 630-503-6555 with all your real estate questions. Our goal is your goal. We will do everything we can to help you reach your goal whether buying or selling a home.
Check our some resources:
Also check with your loan officer to see if they offer any help. Sometimes they can combine help or offer better help with closing costs.
10 19 2019 market update Fox Valley. Have a great week!
Kristine Heiman, Managing Broker
Best Homes Fox Valley-Search for a home today!
200 Webster St
Montgomery, IL 60538
Another way to search for a home. You can sign up for free and it also has a chat feature. Let us know what you think.