Market update Fox Valley week 35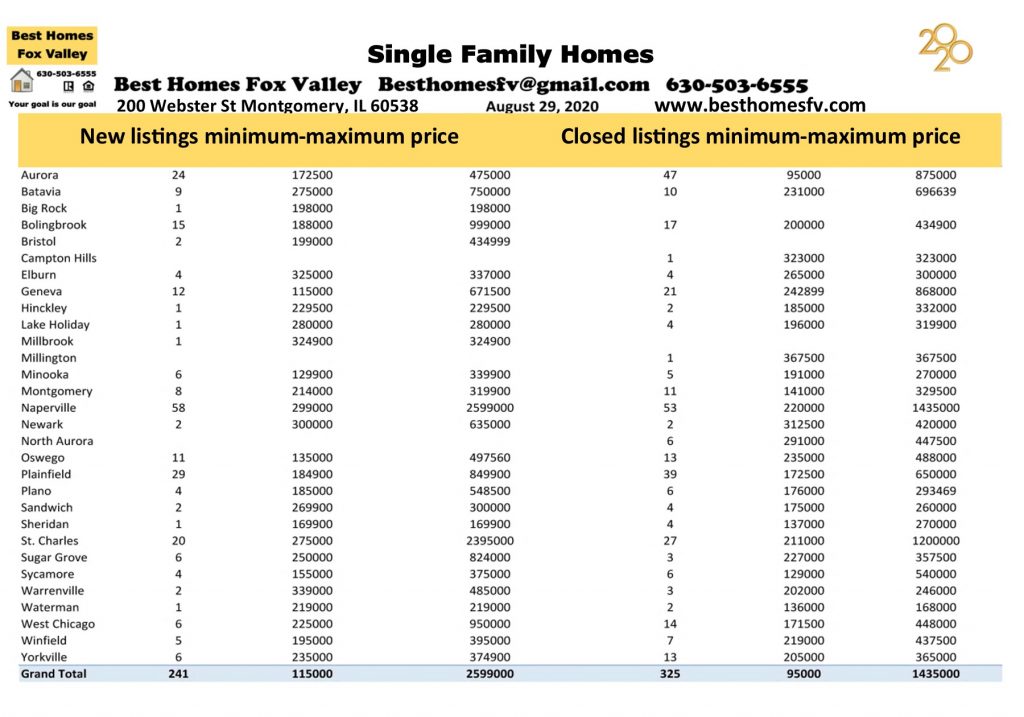 Market update Fox Valley week 35. New listings of single family homes were slightly down this week. 241 this week compared to 253 the week before. Schools are back so that might be contributing to the lower numbers. Hopefully they will pick up because there is still buyers looking to find a home. The need has not been met yet.
Closed single family homes were also slightly down this week. 325 this week compared to 332 the week before. Monday is the last day of the month and will be applied to September totals. It might be a big day too since it is the last day of the month.
Take a look at the communities with the most activity this week:
Aurora-New 24 $172,500-$475,000
Closed-47 $95,000-$875,000
Batavia-New 9 $275,000-$750,000
Closed-10 $231,000-$696,639
Bolingbrook-New 15 $188,000-$999,000
Closed-17 $200,000-$434,900
Geneva-New 12 $115,000-$671,500
Closed-21 $242,899-$868,000
Montgomery-New 8 $214,000-$319,900
Closed-11 $141,000-$329,500
Naperville-New 58 $299,000-$2,599,000
Closed-53 $220,000-$1,435,000
Oswego-New 11 $135,000-$497,560
Closed-13 $235,000-$488,000
Plainfield-New 29 $184,900-$849,900
Closed-39 $172,500-$650,000
St Charles/Campton Hills-
New 20 $275,000-$2,395,000
Closed-27 $211,000-$1,200,000
West Chicago-New 6 $225,000-$950,000
Closed-14 $171,500-$448,000
Yorkville-New 6 $235,000-$374,900
Closed-13 $205,000-$365,000
If you can't find a home in the community you are looking at in your price range you might try looking at another community that might have what you are looking for.
Contract accepted this week
Contracts accepted this week were down by 12. 345 this week compared to 357 the week before. These numbers would be higher with more homes to show buyers. The ones that are on the market and priced right are going right away. Some with multiple offers. It is a great time to sell.
Look at the communities that accepted the most contracts this week:
Aurora- 50 Batavia-13
Bolingbrook-21 Geneva-15
Montgomery-19 Naperville-52
Oswego-25 Plainfield-31
St Charles/Campton Hills-27 Yorkville-23
5 short sales were accepted this week by sellers. 1 each in Aurora, Montgomery, Naperville, Plainfield and Yorkville. Now they will be submitted to the lender to see if they will also accept.
Sellers accepted contracts that are contingent on the buyer closing on their current home. 16 with a kick-out clause of 72 hours, 23 with 48 hours and 4 with 24 hours.
Also, sellers accepted contracts that are contingent on the buyer selling and closing on their current home. 4 with a kick-out clause of 72 hours, 11 with 48 hours and 1 with 24 hours.
2020 by the month and compared to 2019 and 2018
Month New Closed Contract accepted
January 1105 566 858
February 1267 529 1024
March 1186 707 1079
April 648 786 775
May 1352 1010 1444
June 1232 908 1534
July 1417 1453 1852
August 1037 1335 1424
Totals 9244 7294 10002
2019
January 878 407 568
February 1032 463 832
March 1731 915 1375
April 1594 792 1307
May 1645 995 1280
June 1643 1253 1218
July 1423 1008 1090
August 1585 1330 1196
Totals 11531 7163 8866
2018
January 808 489 606
February 1040 444 856
March 1549 907 1564
April 1515 836 1278
May 1569 1066 1344
June 1828 1720 1474
July 1318 994 1061
August 1294 1032 989
Totals 10921 7488 9172
We are doing slightly better than 2019 but less than 2018 in closed single family homes. We are way down on new listings. Our totals for closed could be even better if we had more homes on the market. Especially if we had a wider range of prices.
Contact us
Call us at 630-503-6555 with all your real estate questions. Your goal is our goal. We will do everything we can to help you reach your goal.
It is a great time to sell. Even this time of year. Buyers are still waiting for homes to come on the market. Multiple offers are still happening on homes that are in market-ready condition and priced right. Request a home valuation and we will let you know what your home is worth in today's market. Provide you with a net proceeds that shows you an estimate of expenses to sell and give you an idea of what you have to work with. This will be updated once you get an offer and we know all the terms.
Thinking of buying a home? You need to be ready to go and flexible with your time and go when a home first comes on the market or you will miss out. You need to call a loan officer and get pre-qualified and make sure you keep it up to date once they give you a letter showing what you qualify for. It can't be more than 30 days old. You might find a home over the weekend and have a hard time getting in touch with your loan officer to update it so keep an eye on the dates.
Check out some great resources:
If you are having trouble paying your mortgage because of Covid-19 check with IDHA to see if you qualify for assistance. This ends September 4th but do not wait until the end they might run out of money for help. If you do not qualify and are having a hard time and want to sell to get the money out of your home to move give us a call.
Market update Fox Valley week 35. Have a great week!
Kristine Heiman, Designated Managing Broker
Best Homes Fox Valley-Search for a home today!
200 Webster St
Montgomery, IL 60538
630-503-6555 ext 101