Fox Valley home prices
Fox Valley home prices. New listings of single family home were up. 187 this week compared to 171 the week before. Good news, but not nearly enough. Prices will keep increasing until we get enough inventory of homes to meet the demand. School starting always slows things down, but buyers are still looking.
Closed listings of single family homes was also up this week. 245 this week compared to 208 the week before. Next week is the last full week of the month so it should increase.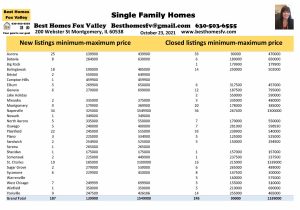 Take a look at the communities with the most activity this week:
Aurora-New 25 $139,900-$439,900
Closed-33 $90,000-$470,000
Bolingbrook-New 18 $190,000-$485,000
Closed-14 $250,000-$502,000
Geneva-New 6 $270,000-$699,000
Closed-12 $187,500-$795,000
Montgomery-New 9 $179,900-$369,900
Closed-20 $178,000-$385,000
Naperville-New 34 $325,000-$1,549,900
Closed-36 $267,400-$1,300,000
Plainfield-New 22 $245,000-$515,000
Closed-33 $239,900-$540,000
St Charles-New 10 $185,000-$1,100,000
Closed-16 $215,000-$1,339,000
Yorkville-New 9 $247,500-$426,186
Closed-14 $255,000-$465,000
You can click on the picture above and look at the other communities listed to see the price ranges better. You might need to adjust what community you are looking in to find your price range that works out best for you.
Financing, median prices and homes that sold 2,000 square feet or more
Median list price this week was $349,000 last week $350,000. Closed median price was $341,500 this week, and $341,000 the week before. These prices are not fluctuating much from week to week.
Financing really came into play this year. Multiple offer situations changed the game. You needed to be already through the approval process and seller's chose Cash, of course, first if the price was right and next they chose Conventional financing. It is still their choice today. Take a look.
Conventional financing closed this week 168 with median price of $371,829, last week 131 at $376,077.
Cash closed this week 27 at median price of $343,900, last week also 27 at$324,900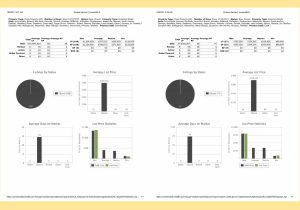 FHA closed this week 41 at median price of $278,000, last week 35 at median price of $282,000.
VA closed this week 8 at median price of $381,000, last week 15 at $349,000.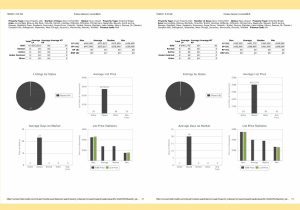 Some people are moving up to a larger home that has more bedrooms, family room, basement or room for an office so we decided to add this into the stats.
Single family homes closed with 2,000 square feet or more this week 134 at a median price of $414,000, last week 123 at $409,000. Minimum price closed this week at $291,000, last week at $205,000. This gives you an idea of prices in our area for that size home.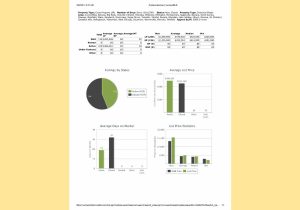 Contracts accepted this week
Contracts accepted this week by seller's was down. 223 this week compared to 233 the week before.
Look at the communities seller's accepted the most contracts this week:
Aurora-29 Bolingbrook-24
Naperville-33 Oswego-13
Plainfield-27 St Charles-18
Click on the photo to enlarge so you can see other communities.
3 short sales were accepted by seller's on single family homes. 1 each in Aurora, Plainfield and Sycamore. Now they will be submitted to the lender to see if they will also accept.
Seller's accepted contracts that are contingent on the buyer closing on their current home. 4 with a kick-out clause of 72 hours, 6 with 48 hours and 1 with 24 hours.
Also, seller's accepted contracts that are contingent on the buyer selling and closing on their current home. 1 with a kick-out clause of 72 hours and also 1 with 24 hours.
2021 by the month
Month New Closed Contracts accepted
January 543 649 829
February 561 604 778
March 993 1099 1455
April 1006 926 1387
May 1088 1288 1289
June 1450 1686 1671
July 1118 1182 1210
August 1109 1203 1170
September 1083 1411 1251
October 563 681 712
Totals 9514 10729 11752
Check back with us every Saturday for the 2021 by the month and at the end of each month we look back at 2020 and 2019 so you can compare and see how the market is going this year.
Every month except April more homes closed than new listings coming on the market.
Contact us
Call us at 630-503-6555 with all your real estate questions. Your goal is our goal. We will do everything we can to help you reach your goal.
Request a home valuation if you think you might want to sell your home. Let us know a little bit about your home and what has recently been updated and we will let you know what it is worth in today's market. We will provide you with a net proceeds that shows you the expenses to sell. This will be updated when an offer comes in and we know all the terms so you can make a good decision.
Thinking about buying a home? Gather all your financial information and get it to a loan officer so they can get you pre approved. Then you will be ready to start looking. You will need to be flexible and go when a home hits the market. It will be gone if you wait until the weekend unless it needs work or over priced.
Resources:
Check with your lender for their current rates. Your credit score will determine the rate you receive.
If you need recommendations for loan officer, real estate attorney or home inspector we can give you a few to contact and you can choose who you want to work with.
All data used is from our MLS MRED, LLC.
Fox Valley home prices. Have a great week!
Kristine Heiman, SFR, SRS, AHWD
Designated Managing Broker
Best Homes Fox Valley-Search for a home today!
200 Webster St
Montgomery, IL 60538
630-503-6555 ext 101