Fox Valley home prices December 18 2021
Fox Valley home prices December 18 2021. New listings of single family homes are down. 84 this week compared to the previous week 78. Some improvement, but definitely not enough.
Closed listings of single family homes were up. 230 this week compared to 210 the previous week. The next 2 weeks will not be interrupted too much with the Christmas and New year holiday since they fall on Saturday.
Take a look at the communities with the most activity this week:
Aurora-New 12 $175,000-$544,900
Closed-27 $100,000-$775,000
Batavia-New 2 $214,900-$239,900
Closed-15 $189,900-$800,000
Bolingbrook-New 8 $235,000-$419,500
Closed-19 $200,000-$480,000
Geneva-New 2 $349,900-$899,000
Closed-12 $275,000-$2,500,000
Montgomery-New 2 $215,000-$339,900
Closed-11 $170,000-$355,000
Naperville-New 11 $397,000-$1,375,000
Closed-30 $325,000-$1,200,000
Oswego-New 7 $315,000-$434,990
Closed-12 $267,000-$470,000
Plainfield-New 13 $200,000-$849,000
Closed-35 $250,000-$660,000
St Charles-New 5 $99,999-$1,179,000
Closed-16 $210,000-$1,449,900
Financing, median prices and 2,000 square feet or more
Median list price this week $349,900, last week $347,000
Closed median price this week $357,500, last week $332,500.
Conventional financing closed this week 164 with a median price $380,000, last week 150 at $360,050 median price
Cash closed 30 with median price $332,500, last week 18 at median price $287,750.
FHA closed 23 with median price $279,000 this week, last week 35 at median price $287,000.
VA financing used to close 13 at median price $375,000, last week 7 at $320,000 median price.
2,000 square feet or more single family homes closed 143 at median price of $420,000 this week, last week 121 at $412,000.
Minimum price was $233,500 this week, last week $240,000. This gives you an idea of pricing in the Fox Valley if you are looking for a bigger home. You might be looking for more bedrooms, home office or family room that you do not have now.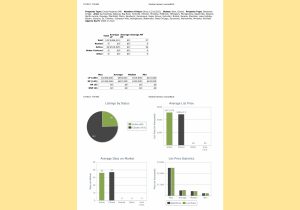 Conventional financing is still the one seller's are accepting right now the most. If your loan officer has pre approved you for something else you might also have them pre approve you for Conventional financing just in case so you do not lose out on a home.
Contracts accepted this week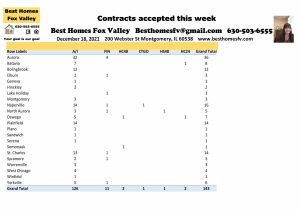 Contracts accepted this week were consistent. 143 accepted this week compared to 141 the week before. Sales are still happening even though the new listings continue to go down. It is a great time to be a seller right now! You do not have to wait until Spring.
Look at the communities seller's accepted the most contracts:
Aurora-36 Bolingbrook-12
Naperville-16 Plainfield-14
St Charles-14
These are the communities that consistently have the most activity.
No short sales were accepted by seller's this week. Most people that are having difficulty do not have to sell short right now unless they bought their home in the last couple of years. Prices have increased enough that most people can sell and not go through that process because there is enough equity.
Seller's accepted contracts that are contingent on the buyer closing on their current home. 2 with a kick-out clause of 48 hours and also 2 with 24 hours.
Also, seller's accepted contracts that are contingent on the buyer selling and closing on their current home. 1 with a kick-out clause of 48 hours.
2021 by the month
Month New Closed Contracts accepted
January 543 649 829
February 561 604 778
March 993 1099 1455
April 1006 926 1387
May 1088 1288 1289
June 1450 1686 1671
July 1118 1182 1210
August 1109 1203 1170
September 1083 1411 1251
October 715 973 930
November 557 854 931
December 264 684 431
Totals 10487 12559 13332
The closed column is the most important one to look at. These are actual numbers.
Some of the closings were carried over from 2020. That is why there are more closed than new listings.
Contracts accepted column can have numbers that are counted more than once. Some seller's accept a contract and then they don't make it past attorney review, home inspection or buyer does not obtain financing so they go back on the market and get another contract.
Check back with us every Saturday for the 2021 by the month. At the end of each month we compare to 2020 and 2019 so you can see how the year has gone and look at the pattern for when most activity occurs.
Contact us
Call us at 630-503-6555 with all your real estate questions. Your goal is our goal. We will do everything we can to help you reach your goal.
Request ahome valuation if you are thinking about selling. Tell us about your home and what updates have been completed recently. A net proceeds will be provided that shows you and estimate of expenses to sell. When an offer comes in this will be updated and we can have all the terms reflected to give you better numbers.
Thinking of buying a home? You need to get in touch with a loan officer and provide them with all your financial information. They will give you a letter showing how much you qualify for and what type of loan. When you find a home this will be sent with the offer to let the seller know you do qualify for their home.
Resources:
Contact your loan officer to see what rates they are offering you based on your credit score. They will help you if you need to bring your score up. The better the score you have the better the rate you will be offered.
If you need recommendations for loan officer, real estate attorney or home inspector we can provide a few. You can contact them and decide who you want to work with.
If you are on Facebook please look for me there. You can click on the "shop now" and search anywhere in Illinois.
All data provided from our MLS, MRED, LLC.
Fox Valley home prices December 18 2021. Have a great week. Search for a home today!
Kristine Heiman, SRS, SFR, AHWD
Designated Managing Broker
Best Homes Fox Valley
200 Webster St
Montgomery, IL 60538
630-503-6555 ext 101