2021 Real Estate Market Update Week 12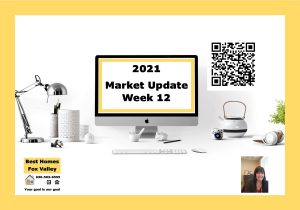 2021 real estate market update week 12. New listings of single family homes were up. 222 this week compared to 171 the week before. Increases are always exciting. We are hoping this picks up steam so there are homes to show buyers that are getting impatient. Too many have multiple offers the same day they are listed.
Closed listing of single family homes went down. 209 this week compared to 226 the week before. The last 3 days business days of the month are next week so there should be an increase then.
Take a look at the communities with the most activity this week:
Aurora-New 26 $120,000-$1,499,000
Closed-27 $115,000-$553,000
Bolingbrook-New 13 $245,900-$799,900
Closed-12 $165,000-$474,809
Geneva-New 8 $325,000-$1,639,900
Closed-10 $292,000-$617,000
Naperville-New 50 $295,000-$1,745,000
Closed-41 $260,000-$1,800,000
Oswego-New 11 $175,000-$749,500
Closed-15 $206,000-$1,500,000
Plainfield-New 29 $219,999-$599,999
Closed-25 $200,000-$781,624
St Charles/Campton Hills-
New 25 $240,000-$1,895.000
Closed-16 $285,000-$617,500
You should be able to click on the photo above to make it larger so you can see all the communities that had activity this week. You might have to adjust what community you are looking at depending on what price range you are looking for.
Contract accepted this week
Contracts accepted this week on single family homes were slightly down. 293 this week compared to 304 the week before. You can see more contracts were accepted this week than new listings. This is the problem with low inventory. As soon as they come on the market they are gone and then some.
Look at the communities seller's accepted the most contracts:
Aurora-34 Bolingbrook-19
Geneva-15 Naperville-75
Oswego-17 Plainfield-28
St Charles/Campton Hills-21 West Chicago-10
Yorkville-14
1 short sale was accepted on a single family home this week. It was in Montgomery. Now it will be submitted to the lender to see if they will also accept.
Seller's accepted contracts that are contingent on the buyer closing on their current home. 4 with a kick-out clause of 72 hours, 6 with 48 hours and 1 with 24 hours.
Also, seller's accepted contracts that are contingent on the buyer selling and closing on their current home. 1 each with a kick-put clause of 48 hours and 24 hours.
Multiple offer situations has decreased these contingencies. Seller's are looking for the offer with the least amount of hurdles to get through to get to closing.
2021 real estate market update by the month
Month New Closed Contracts accepted
January 543 649 829
February 561 604 778
March 801 825 1146
Totals 1905 2078 2753
Look at the difference in the months so far. The closed column is the most important column because that is actual numbers. New listings can be relisted and contracts accepted not always make it past the home inspection and attorney approval time period. They can go back on the market and then contract pending again.
This is the last full week of the month but I think I will wait until next week to take a look back to 2020 and 2019. There is 3 business days next week still in March so I will wait.
Check back with us every Saturday for the 2021 real estate market update and at the end of each month for a comparison to the previous 2 years so you can see how this year is going.
Contact us
Call us at 630-503-6555 with all of your real estate questions. Your goal is our goal. We will do everything we can to help you reach your goal.
If you have been waiting for Spring market to put your home up for sale you don't need to wait. It is here! There is not enough homes on the market and the prices are rising because of it. Request a home valuation and let us know about any updates that have been completed lately that might increase the value. We will provide you with a net proceeds that shows you the expenses to sell. This will be updated when an offer comes in and we know all the terms so you can make a good decision.
Are you wanting to buy a home this year? You need to be ready to go with a letter from a lender showing what you qualify for in price and what type of loan. Homes are moving quickly now and you will not have time to look and then get this from a loan officer. When a home hits the market that fits your criteria you need to be ready to go look and write an offer. They are going that quickly.
Resources to check out:
If you are looking for other information let me know and I will point you in the right direction. We can make recommendations for a few loan officers, home inspectors and real estate attorneys. You can decide which ones you want to work with.
2021 real estate market update week 12. Have a great week!
Kristine Heiman, Designated Managing Broker
Best Homes Fox Valley-Search for a home today!
200 Webster St
Montgomery, IL 60538
630-503-6555 ext 101