2021 market update week 6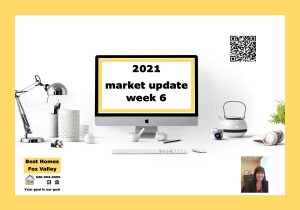 2021 market update week 6. New listings of single family homes is up by exactly 20. 148 this week compared to 128 the week before. Even with all the snow seller's made the decision to put their home on the market. Great choice because we are in a seller's market! We hope this will increase as we go forward. There are too many buyer's out there waiting for new listings to come on the market.
Closed listings of single family homes was down this week. 116 this week compared to 146 the week before. Closings will increase as we head to the end of the month when most buyers want to close.
Take a look at the communities with the most activity this week:
Aurora-New 24 $129,900-$634,999
Closed-13 $110,000-$430,000
Bolingbrook-New 5 $199,900-$299,900
Closed-14 $205,000-$368,000
Naperville-New 27 $339,900-$2,399,000
Closed-19 $357,000-$915,000
Plainfield-New 16 $239,900-$479,900
Closed-13 $195,000-$452,500
St Charles/Campton Hills-
New 14 $269,900-$3,995,000
Closed-10 $262,500-$815,000
Contracts accepted this week
Contracts accepted on single family homes was down this week. 228 this week compared to 251 the week before. New listings were down last week so that probably contributed to lower accepted contracts this week.
Look at the communities with the most contracts accepted this week:
Aurora-37 Batavia-11
Bolingbrook-16 Geneva-11
Naperville-52 Oswego-19
Plainfield-23 St Charles/Campton Hills-10
5 short sales were accepted this week. 3 in Aurora and 1 each in Geneva and Waterman. Now they will be submitted to the lender to see if they will also accept.
Seller's accepted contracts that are contingent on the buyer closing on their current home. 2 with a kick-out clause of 72 hours, 2 with 48 hours and 3 with 24 hours.
Also, seller's accepted contracts that are contingent on the buyer selling and closing on their current home. 1 with a kick-out clause of 72 hours, 4 with 48 hours and 1 that might be 24 hours but it was not marked so I don't know.
There is still confidence in the market with sellers accepting these contingencies.
2021 market update by the month
Month New Closed Contracts accepted
January 543 649 829
February 276 262 479
Totals 819 911 1308
Closed listings is the numbers you should pay attention too. They are actual numbers. New listings can be cancelled and relisted as new and contracts accepted sometimes do not make it past the home inspection and attorney review and go back on the market. Then get a contract accepted again.
At the end of each month I will compare to the previous 2 years so you have something to compare to so you can see how this year is going.
Check back with us every Saturday for the 2021 market update.
Contact us
Call us at 630-503-6555. Your goal is our goal. We will do everything we can to help you reach your goal whether buying/selling a home.
Thinking about selling this year? Request a home valuation and give us some details about your home and any updates that you have recently completed. We will let you know what it is worth in today's market and provide you with a net proceeds that shows you an estimate of expenses to sell. This will be updated when an offer comes in and we know all the terms.
If you are thinking about buying a home you will need to contact a loan officer to get prequalified. Get together 2 years of tax returns, pay stubs, bank statements, credit card statements, car loan information and any other monthly expenses you have. They will provide you with a letter showing the price and type of loan that works out best for you. When you find a home this will need to go with your offer so you can show the seller that you do qualify for their home.
Resources to check out:
There is some great information in each of these sites. If there is any other information that you are looking for let me know and I will point you in the right direction.
Do you need recommendations on loan officers, real estate attorneys or home inspectors? We can give you a few of each to contact so you can decide who you want to work with.
2021 market update week 6. Have a great week!
Kristine Heiman, Designated Managing Broker
Best Homes Fox Valley-Search for a home today!
200 Webster St
Montgomery, IL 60538
630-503-6555 ext 101