2021 market update week 2
2021 market update week 2. New listings of single family homes are staying consistent into this second week of the year. 139 this week compared to 136 the week before. Now we need to try increase the number of homes so we can meet the buyer demand.
Closed homes this week were almost identical. 168 this week compared to 167 the week before. Closings should increase as we head to the end of the month when most buyers want to close.
Take a look at the communities with the most activity this week:
Aurora-New 12 $158,900-$525,000
Closed-21 $110,990-$400,000
Bolingbrook-New 10 $199,900-$939,000
Closed-24 $174,000-$388,000
Naperville-New 35 $350,000-$1,450,000
Closed-20 $345,000-$1,290,000
Oswego-New 12 $210,000-$419,900
Closed-7 $200,000-$467,500
St Charles/Campton Hills-
New-10 $219,900-$1,275,000
Closed-15 $260,000-$665,000
You should be able to click on the photo above to make it bigger so you can see the other communities with activity this week.
Contracts accepted this week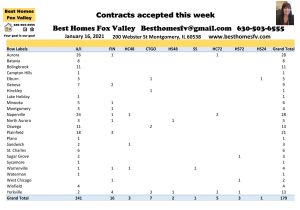 Contracts accepted this week were much higher. 179 this week compared to 159 the week before. Usually things slow down this time of year but with the extremely low inventory that continues buyers are not slowing down. They know they have to keep up with the market or they will lose out.
It will continue to be a seller's market until we see inventory improve drastically.
Look at the communities that seller's accepted the most contracts this week:
Aurora-28 Bolingbrook-11
Naperville-28 Oswego-13
Plainfield-21 Yorkville-13
1 short sale was accepted in Warrenville this week by a seller. Now it will be submitted to the lender to see if they will also accept.
Seller's accepted contracts that are contingent on buyer closing on their current home. 5 with a kick-out clause of 72 hours and 3 with 48 hours.
Also, seller's accepted contracts that are contingent on the buyer selling and closing on their current home. 3 with a kick-out clause of 72 hours, 2 with 48 hours and 1 with 24 hours.
2021 by the month
Month New Closed Contracts accepted
January 275 335 338
We will update this every Saturday and at the end of each month we will compare to the previous 2 years so you can see how things are going.
Contact us
Call us at 630-503-6555 with all of your real estate questions. Your goal is our goal. We will do everything we can to help you reach your goal.
Buying a home can be very exciting. If you haven't already you need to contact a loan officer to get prequalified. Get 2 years of tax returns, pay stubs, bank statements, credit card information and any other payments you make monthly together. Scan them if you can so you can submit them. After they are finished they will provide you with a letter that says what type of loan that will work out best for you and what price. We will submit this letter with an offer when you find a home.
Thinking about selling this year? It is an excellent time to sell. Prices are up because of low inventory. Homes are moving quickly if they are market ready. Request a home valuation so we can let you know what it is worth in today's market. We will provide you with a net proceeds that shows you an estimate of expenses. This will be updated when an offer comes in and we know all the terms so you can make a good decision.
Resources to check out:
IF there is any other information that you are looking for let us know and we would be happy to point you in the right direction. We are here to guide you through the process.
2021 market update week 2. Have a great week!
Kristine Heiman, Designated Managing Broker
Best Homes Fox Valley-Search for a home today!
200 Webster St
Montgomery, IL 60538
630-503-6555 ext 101